About BLUE SKY,RED EARTH TRIBAL ART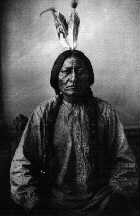 The Indian Trading post has been a long standing institution on many of the western reservations. Blue Sky,Red Earth Tribal Art carries on that long standing tradition only difference being that this trading post is on the "net" and is owned by Native Americans. By eliminating the middleman trader we bring you the best prices for the items we carry. It is an immpossibility to list all the different art, craft and jewelry items that we have in our inventory, so if you are looking for something in particular just ask, we might have it or can have it made for you. New to our listings is a fine selection of traditional native drums, bone rasps and fine flutes. The photos are being done now and will be uploaded to this site as soon as possible.

---
The eagle is a very powerful image amongst many Native American tribes. It is often found portrayed in many artistic forms in various crafts. The eagle's feathers are held sacred by many tribes and represent honors bestowed upon the owner of the feathers. We honor that same spirit of the eagle in many of the pieces you will find in our pages. The feathers used in creating these offerings are legal for sale as they are handpainted to imitate the representative birds.

---

The buffalo is another very influential force upon Native American arts and crafts. The mighty buffalo played a major part in the everyday life of the nomadic plains indians. Almost every part of the buffalo was used to provide, clothing, shelter, food, tools, weapons and utensils and much more. We carry many buffalo items ie. plain and painted robes, buffalo coats, plain and painted skulls, knives made from rib bones, shields and numerous other items.

---
We also carry a fine line of carved pipes in red pipestone, black steatite and carved antler. Please inquire as to availability and for photos. Our feathered headdresses are exceptionally made with choice of hand painted eagle feathers, natural barred turkey or white turkey feathers. We currently stock them in Cheyenne, Blackfeet and Lakota styles. Another fine addition to our collection is the traditional caped fur headress made of the entire animal pelt (as seen in Dances with Wolves and other movies). Please contact us for availability and selection, currently carrying: coyote, fox, badger and wolf. Special orders on porcupine quillwork and beadwork are always welcomed. If you are looking for something in particular and don't see it here, please email us with your inquiry as we have items too numerous to list here and we may have it in stock or can get it.

---

Please check out our associates at Amazon.com for an excellent selection of reference and reading material on Native American culture, history, sociology, art, and crafts. While there take a browse through their native music section in the CD catalog. Just click on the logo to go there, but before you do, be sure to bookmark this page so you can return and visit our exciting catalog section.

---
Please visit the links to our catalog
Blue Sky,Red Earth Tribal Art


PLEASE VISIT OUR FAVORITE LINKS

View our guestbook!
---